Music
Summer mixed tape
We have swallows, we have sun, and we have a compilation of beautiful Folk/ Indie songs by very talented musicians from Wellington and Tauranga.
Summer mixed tape compiled by World Sweet World
Artists Rosy Tin Teacaddy | Ashes of August | Harriet and the Matches | Ryan Prebble | Jess Chambers | Matt Yearbook | Barebones and Cabaret
We at World Sweet World think these artists are great! Support them by checking out their websites and myspace pages, and by going to their shows and buying their music!
Rosy Tin Teacaddy » top
myspace.com/rosytinteacaddy
rosytinteacaddy.wordpress.com
Billy Earl and Betty Grey have sung together since they were youngsters – and it shows. In early 2007 the duo launched themselves as Rosy Tin Teacaddy and soon showed up on the Wellington music radar with support slots for Jose Gonzalez and Iron and Wine. Their debut EP 'Blind Leading the Blind' was snapped up by gleeful fans who have since clamoured for their full-length album 'The Homeward Stretch'.
Worn out shoes, dusty jackets, two guitars and two voices. A gentle car crash of folk and alt-country. From heart aching ballads to foot stomping sing-alongs Billy and Betty will keep you on your toes. The pair charm the pants off audiences with their engaging live shows featuring cleverly crafted songs and close vocal harmonies.
"Alt country, very lovely, folky, small, enchanting, meandering. It's literally that fresh air – that smallness is just grand!"
Manu Taylor, RNZ National, 27/03/09
Ashes of August » top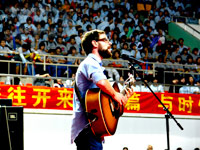 Ashes of August is the name I give to all my songwriting. Until recently I performed with my little sister Holly. She's got a sublime voice, and I'm always excited about sharing a musical moment with her. Last year Holly announced she would embark on a year of world travel, so in an effort to preserve what we had been doing musically, we recorded Truth You Know EP.
This year has been very busy creatively, although I have rarely performed. After playing lots of shows at the beginning of the year to promote the CD release, I relocated to Vancouver in June. Our mother is Canadian and I've always wondered what it would be like to experience living here. I'm feeling really inspired by my new surroundings, and I'm finding my writing has been going to new places which is really exciting. I'm currently working on a new album in my basement so keep your ear to the ground.
The "Truth You Know" EP is available on iTunes and in CD stores nationwide.
Harriet and the Matches » top
myspace.com/harrietandthematches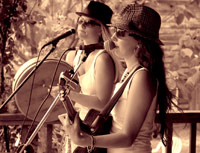 Harriet and the Matches formed in January 2005 after long-time musical companions Jessie Moss and Amiria Grenell solidified what had been casual jamming. Their energetic and original style is a delightful mix of ballad, contemporary folk, reggae and soul inspired songs. Harriet and the Matches place a strong emphasis on tight vocal harmonies and driving rhythms pounded out with a traditional Irish Bodhran. Harriet and the Matches released their debut e.p "Ata Takahi" in 2005, and a full-length album 'Wandering paths' was released March 2008. Harriet and the Matches use music as their tool for change, speaking of social and environmental justice in song. Any opportunity to share their music in celebration of peace is welcomed.
"Their captivating lyrics were inspired by everything from social commentary to dreams and displayed the explicit pointed style of lyric writing that is historically linked to protest songs" – The Package
Ryan Prebble » top
Since he was knee-high to a grasshopper, Ryan Prebble has been playing music. Like many youths, he made his start on a tennis racquet eventually progressing to the guitar and now, 15yrs later, he has developed a uniquely percussive style of playing. He has captivated small audiences around NZ with his powerful voice and stonking rhythms performing alongside other artists such as The Inkling and The Chandeliers. He also collaborates in other bands, Safari, Spartacus R, The Ascension Band, and was a member of the Fly My Pretties band.
Jess Chambers » top
jesschambers.com
myspace.com/woolshedsessions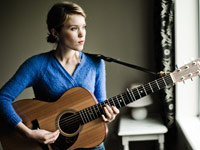 Born to an American mother and Kiwi father, Jess Chambers spent equal time growing up in sunny California and the chilly South Island of New Zealand before settling in Wellington in 2002. In the close-knit and vibrant environment of New Zealand's creative Capital, the singer/songwriter seamlessly bonded with like- minded musicians and established herself as a solo and collaborative artist.
In July 2008, the release of her debut solo album 'Jess Chambers and the Firefly Orchestra' garnered her critical acclaim and helped launch an enduring and formidable musical partnership with Justin 'Firefly' Clarke who had returned home to New Zealand after almost ten years of living and working in Berlin. Justin 'Firefly' Clarke brought together and conducted the 'Orchestra' featuring more of Wellington's finest musicians, Samuel Flynn Scott (Phoenix Foundation), Rio Hunuki Hemopo (Fat Freddy's Drop, Trinity Roots), Tessa Rain (Fly My Pretties) and Andy Hummel (Rosy Tin Teacaddy).
Her latest collaboration is with 'The Woolshed Sessions', a band that grew from a jam in a former shearing shed in Takaka Valley and featuring some of New Zealand's most respected independent musicians: Age Pryor, Andy Hummel, Justin Firefly Clarke, Peter Hill, Lee Prebble, Brett Skinner and Al Fraser. Their low-fi recordings captured the ambient resonance of the space the music was created and recorded in – a converted woolshed with bare timber floors, lined with plywood and clad in corrugated iron – and a new musical phenomenon was launched – celebrating original New Zealand songwriting driven by lashings of lap-steel guitar, lush vocal harmony sing-a-longs and banjo punctuations.
Matt Yearbook/ Barebones and Cabaret » top
myspace.com/mattyearbook
myspace.com/barebonesandcabaret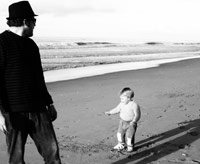 BareBones and Cabaret: ramshackle country pop
By way of brief bio they came into existence when exiled Englishman Matt Schobs aka Matt Yearbook, solo singer/songwriter wanted to break free from the lonesome travels and create a band that complemented his unique style of songwriting whilst providing added dimensions and the excuse the 'turn up'.
Formed to a fully functional standard BB&C played their first gig early in 2008. With styles flitting between acoustic folk, alt.country, dirty rock n roll and 60's soul/psychedelia, the band have become a live favourite due to the unpredictable yet always entertaining nature of their performance.
"We never know what kind of gig it will be until we get to the venue' says Glen Brown, guitarist and tambourine player. 'We could set out with intentions of acoustic,mandolin and brush drums yet end up playing a fast country/garage set! It all depends on the collective mood of the band and the audience."
"I have never destroyed more equipment or played such beautiful music as I have with BareBones' says Stefan, drummer and avid music collector."