The magazine
Hello, everybody! Unfortunately we are completely sold out now of all 9 issues that ever existed (thanks to our stockists who helped selling them!). But anyhow, here is an overview of our last one, issue #9:
Welcome to MAKING PEACE, issue #9 of World Sweet World, the magazine for makers and doers. Split into two parts, it has beautifully illustrated, step-by-step instructions for making cool stuff, followed by articles about people or stories on sustainable living, and, in general, things that we hope you'll find inspiring.
Here's a sneak preview of issue #9:
One of our favourite parts of putting each new issue together has been commissioning new artwork by such incredibly talented illustrators. We've drooled over Devon Smith's work in Swonderful here in Welly, and were a couple of excited children when she got in touch two months ago to say she'd like to contribute. We're thrilled with the work she's done for the cover, and also the adorable illustrations by Sarah McNeil for the Crafty Business article on page 46.
We've got a how-to on a bike trailer to help carry your heavy load, a wallet made of fused plastic, and a lamp made out of a fishing rod to light up your life. We're happy to give you insight to "A family affair" at Martha's Pantry, and enjoyed learning spinning with Johanna Knox. Hope you'll enjoy all of this just as much, along with the rest of the content we've rounded up in this issue.
All the best from

Sold out: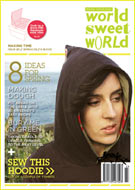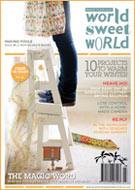 These were our lovely stockists around New Zealand and in Australia
AUSTRALIA
NSW
Bird in the Hand, 100a King Street, Newcastle
I Ran the Wrong Way, 378 Cleveland Street, Surry Hills
One Wise Owl, 719 Greenwell Point Rd, Jindy Andy Mill, Pyree
Upcycling, Shop 2, Silk House, 200 Hunter St, Newcastle
QUEENSLAND
Nook, 19 Browning Street, West End
VICTORIA
i like you, 80 Johnston St, Fitzroy
Lark, 72 Raglan Street, Daylesford
WESTERN AUSTRALIA
Bug & Megs, 49 High St, Fremantle
NEW ZEALAND – NORTH ISLAND
AUCKLAND
Ecostore, 1 Scotland Street, Ponsonby
iko iko, 195 Karangahape Road
Let's Go Retro, 717 Swanson Road, Swanson
Texan Arts Schools Newmarket, 366 Broadway
Texan Arts Schools Ponsonby, 95 Ponsonby Road
Next Door Gallery, 132 Hinemoa St, Birkenhead
HAMILTON
Auteur House, 555 Victoria Street
NAPIER
Hawke's Bay Museum and Art Gallery, 9 Herschell Street
NEW PLYMOUTH
Kina, 101 Devon St West
PAEKAKARIKI
The Beach Store, 104 The Parade
PALMERSTON NORTH
nuddy clothing, 284 Cuba Street
RAGLAN
Jet Collective, 19a Bow Street
ROTORUA
The Styx, 1186 Eruera Street
WELLINGTON
Artikel, 126 Wakefield Street
Commonsense Organics, 260 Wakefield Street
es design, 1 Marion Street
Emma, 476 Adelaide Road, Berhampore
Finc Espresso Bar & Dining Room, 122 Wakefield Street
Frutti, 176 Cuba Street
Good Score, Island Bay, 120 The Parade
iko iko, 118 Cuba Mall
Inky Pinky, 116 Karori Road
Juniper, Newtown, 114 Riddiford Street
Koru Gallery, Island Bay, 147 The Parade
Madame Fancy Pants, 217 Cuba Street
Martha's Pantry, 276 Cuba Street
Minerva Textile books & Gallery, 237 Cuba Street
Nancys, Thorndon, 241 Thorndon Quay
Starfish, 128 Willis Street
Swonderful, 95 Victoria Street
TheNewDowse, 45 Laings Rd, Lower Hutt
Vessel, 87 Victoria Street
Wanda Harland, 148 Jackson Street, Petone
Wanda Harland, 24 Elizabeth St, Mt Victoria
Wall Street Designs, 102d Wadestown Road, Wadestown
WAITAKERE
Corban Estate Arts Centre, Henderson, 426 Great North Rd
WANGANUI
paige's book gallery, 60 Guyton Street
WHANGAREI
tuatara, 29 Bank Street
NEW ZEALAND – SOUTH ISLAND
CHRISTCHURCH
DUSK gallery + store, 18 Poplar Street
Hands Ashford Craft Store, 5 Normans Road, Elmwood
Piko Wholefoods, 229 Kilmore Street
Portico, 48 London Street, Lyttelton
Starfish, 113 Manchester Street
The General Store, His Lordships Lane, Cnr Lichfield/Manchester
DUNEDIN
Fern NZ Designers and Jewellers, 67 Princes Street, CBD
HANMER SPRINGS
Wai ariki nature park, cafe & quilt shop, 108 Rippingale Road
LITTLE RIVER, BANKS PENINSULA
Little River Gallery, Main Road SH 75
NELSON
Delume, 6 Nile Street
TAKAKA
Golden Bay Organics, 47 Commercial Street
QUEENSTOWN
Vesta Design, Williams Cottage, 19 Marine Parade